Dental Fillings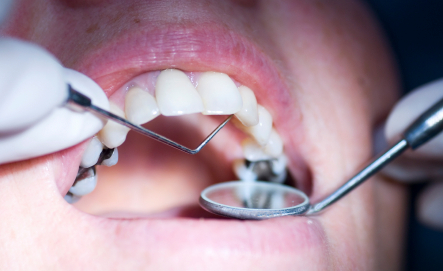 If you have been told that you have tooth decay, then your first thought may be wondering how we will treat it. One of the first resources that we reach for when a patient has tooth decay is a procedure known as dental fillings. Comprised of a variety of materials that can include porcelain, amalgam metal, or composite resin, fillings can help us restore a tooth that has been harmed by dental cavities.

Getting a filling is incredibly easy and does not hurt, yet many of our patients are understandably a little bit nervous about getting this procedure done. We here at Sharokina Eshaghi, DMD would like to let you know that there is nothing to worry about, and when we recommend that you get a dental filling, you can trust that we will be both gentle and careful while we work on your affected tooth!


What Type of Dental Filling Do I Need?

Dental fillings are a form of restorative dentistry that not only restores a tooth that has been damaged by tooth decay, but it can also help the tooth remain in your mouth and keep its original shape and size. This can prevent discomfort and problems with your bite later on in life. There are three main types of filling materials that we typically use in our office, and the type that we choose when we repair your tooth will largely depend on the location of your tooth and the degree of decay.

One of the more common types of dental filling material is called amalgam. Amalgam is made of silver, tin, and mercury and despite their bad reputation, they are quite safe. They are best on your back teeth because they are quite strong and durable. We do not recommend amalgam on your visible front teeth due to their color, however. While this is a strong and reliable material, please be aware that it will eventually need to be replaced and due to it shrinking and expanding when you eat hot or cold foods, it may damage your tooth over time.

Another popular type of material that we use for tooth decay fillings is called composite resin. Composite resin is made of a combination of materials, including plastic and ceramic. It is not as durable as amalgam and can be brittle, which means that it can chip or break over time. It can last up to ten years and is better for your visible front teeth because it is tooth-colored and will blend in better. Unlike amalgam, it does not shrink or expand, which means it is gentler for your tooth.

Finally, we like to use porcelain on fillings. Porcelain is a great choice for many patients because it is stronger and more durable than composite resin, but it can also be dyed to match your teeth, which makes it look natural. It does not shrink or expand like amalgam, and it can last quite a long time if you take good care of your teeth. It can be used on both your molars or your visible front teeth.


Have More Questions?

If you have been told that you have tooth decay, then understandably you may want to know about how we will treat it and what kind of materials we will use. To learn more about dental fillings how we treat tooth decay, or you are ready to set up an appointment with us here at Sharokina Eshaghi, DMD, please give us a call at (209) 526-4884 today!